Providence Greenhouses
Providence Greenhouses provides vocational training and employment for people with intellectual and developmental disabilities in a working nursery. Our Greenhouses team members are continuously gaining in-depth knowledge of horticulture and commercial nursery practices, and they are building the professional skills for community employment. Not only are they learning how to grow and sustain beautiful plants native to Maryland, they are also gaining job skills they can use to achieve greater independence.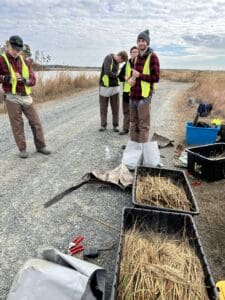 To learn more about Providence Greenhouses, email Rachel Carey at our Greenhouses Department:  rcarey@providenceofmaryland.org.
Environmental Restoration in the Chesapeake Bay Region
Our Greenhouses team is contributing to our community through important environmental restoration projects, including the rebuilding of Poplar Island in the Chesapeake Bay. By participating in our horticulture program, people at Providence are making the environment a greener, happier place.
Commercial Plant Growers for Central Maryland
Providence Greenhouses has worked with a number of prestigious organizations and companies in Maryland to meet their larger-scale commercial growing needs, including the Army Corps of Engineers, Dominion Energy, Anne Arundel Community College, Maryland Department of Natural Resources, and Maryland Therapeutic Riding. These meaningful partnerships are vital for Providence's continued growth. Learn how you can become a part of our cherished community of supporters by making a donation or signing up to volunteer today.
How to Support our Greenhouses
Place a Grow Order:
We specialize in natives and veggies but will discuss any project! Most native plant grows take 12 weeks.
Much of our restoration seed is locally sourced!
A sample of seed we have available for restoration projects.
Spartina patens
Spartina alterniflora
Andropogon virginicus
Scirpus robustus
Distichlis spicata
Scirpus cyperinus
Attend One of Our Public Sales:
Earth Day Open Greenhouse Fri April 21 – Sat April 22 8:30am – 1:30pm
Pick up your native plants for your community beautification projects!
Spring Sale Pottery and Plants! Sat May 6 10am – 1pm
Hanging Baskets, summer veggie starts, and more!
Volunteer Days:
First Fridays and Third Thursdays 9am – noon every month.
We'd love to have you on our Volunteer Team!
Visitation: At this time, we are not set up as a retail business. Still, planned visits are welcome M-F 8am – 4pm. Calling ahead is important for the best experience, ensuring we are on-location to help you.
For all Inquiries, Contact: Rachel Carey 410-830-1405, rcarey@providenceofmaryland.org
Thank you for supporting Providence and our people!
Spring 2023 On-Demand Plant List:
Native Plants
Andropogon glomeratus
Asclepias incarnata
Asclepias syriaca
Asclepias tuberosa
Baptisia australis
Carex pennsylvanica
Carex stricta
Chasmanthium latifolium
Conoclinium coelestinum
Echinacea purpurea
Eupatorium fistulosum
Helianthus angustifolius
Hibiscus moscheutos
Iris versicolor
Iris virginica
Juncus effusus
Liatris spicata
Lobelia cardinalis
Lobelia siphilitica
Monarda didyma, Jacob Cline
Osmundastrum cinnamomeum
Panicum virgatum
Phlox paniculata, David
Rudbeckia fulgida
Rudbeckia hirta
Solidago sempervirens
Symphyotrichum novae-angliea
Verbena hastata
Vernonia noveboracensis
Veggies
Bok Choy
Broccoli
Brussel Sprouts
Kale
Lettuce
Basil
Cilantro
Eggplant
Greenbean
Lavender
Oregano
Parsley
Pepper, Jalapeno
Pepper, Shishito
Pepper, Belle
Pepper, Orange Blaze
Rosemary
Sage
Thyme
Tomato, Cherokee Purple
Tomato, Sungold
Tomato, Roma
Tomato, Brandywine
Zinnia, 1′
Marigold, 3′ cutting
Pepper Pack (Sampler of 4)
Tomato Pack (Sampler of 4)
Strawberry
Hanging Baskets
Mixed varieties!
Greenhouses Location
Learn more about why making a donation to Providence makes a difference.
Contact Providence
Talk to us today.